Rupture Discs and Explosion Vents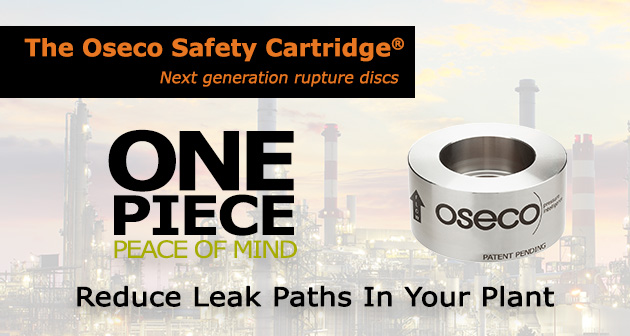 OsecoElfab
• Over-Pressure Protection with Rupture Discs and Explosion Vents
Oseco is the market leader in manufacturing rupture discs, explosion vents, and other custom pressure relief products. The Oseco factory is located in Broken Arrow, Oklahoma.
Oseco delivers:
Custom Solutions – Product Customization, Product Optimization & The Best Engineered Team
Performance – Best Application Solution and Best Product Performance Guarantee
Reliability – Emergency Response Team, Available 24/7/365, Dependable Delivery, Industry Certified, Best Warranty
Rupture Disc
SAFETY CARTRIDGE (Disc and Holder In One)
PRO+KRGL (Precision Reverse Operating)
FAS (Forward Acting Scored)
Opti-Gard-(Reverse Buckling)
CO (Composite, Forward Acting)
PLR (Reverse Buckling)
PCR (Precision Cut Reverse, Reverse Buckling)
STD (Standard, Forward Acting)
FLCO (Flat Low-Pressure Composite)
GraphiTech-GTM, GTMV, GTI (Flat, Graphite)
VAPRO and POSIPRO-Low Pressure
SANITARY: FAS-S, PRO-S, FM-S, POSIPRO-S, VAPRO-S
Applications: Tank, Reactors, Chillers, Heat Exchangers, Safety Relief Valve Isolation, Distillation Columns, Separators, Coking Drums, Fermenters, Bioreactors, Process Columns, Process Tanks, Vessels, Gas or Chemical Storage and Transport, or Any Applications where pressure relief is required!
MV – Metal Vent
MV-RF: Rectangular Flat
MV-CF: Circular Flat
MV-RD: Rectangular Domed
MV-CD: Circular Domed
MV-BE: Bucket Elevator
LEGACY-CRVC
Applications: Dust Collectors & Arrestors, Buck & Drag Conveyors, Blenders, Mixers, Crushers, Grinders, Pulverisers, Driers, Ovens & Furnaces, Ducts, Bins, Silos, Grain Elevators.
Custom Engineered Solutions
O.T.U.-One Time Unit
WDA-Welded Assembly
PRD-Pressure Relief Device
Accessories:
Holders, Sensors, Pipe Covers